This week's discussion is How Does Faith Connect to your Happiness. Bonnie Gray is hosting a blog-and-comment discussion on "keeping faith fresh." When you have finished reading here, hop over to Faith Barista and join in on the jam session!
It's a childhood past time:  After a good down pour, go out and find a pile of mud; make slimy piles of gooey goodness; slippery castles of sloppy ooze – fun and happiness is had by all!  But as we grow older, the innocence of 'mudplay' gives way to another pursuit.
As adults, our search for happiness drives us to jump at the chance for self-indulgence and gratification.  We become satisfied with mere happiness when God has promised so much more – Joy!
A friend recently reminded me of this C.S. Lewis quote:
Indeed, if we consider the unblushing promises of reward and the staggering nature of the rewards promised in the Gospels, it would seem that Our Lord finds our desires, not too strong, but too weak.  We are half-hearted creatures, fooling about with drink and sex and ambition when infinite joy is offered us, like an ignorant child who wants to go on making mud pies in a slum because he cannot imagine what is meant by the offer of a holiday at the sea. We are far too easily pleased.
One might say that happiness and joy are simply synonyms and that this is an argument of semantics.  Perhaps, but follow me a little further on this distinction:
Happiness is a temporary, emotional response to our current condition.  It is a human-centered reflex that is activated by pleasing stimulus and removed by unwanted discomfort.  I can produce happiness in my life by satisfying my desires – but it can be removed just as quickly by a change of weather or financial set back.  "To be happy" is man's attempt at a piece of the divine.  The pursuit of happiness is making mud pies after a rain.
This does not make happiness evil; it just makes it human.  But to be human is to be flawed.  To be human is to need a Redeemer.
Still not convinced that happiness is not 'where its at'?  Let's look at Joy:
1.  Joy, unlike happiness, cannot be taken away by people or situations:
I tell you the truth, you will weep and mourn while the world rejoices. You will grieve, but your grief will turn to joy.  A woman giving birth to a child has pain because her time has come; but when her baby is born she forgets the anguish because of her joy that a child is born into the world.  So with you: Now is your time of grief, but I will see you again and you will rejoice, and no one will take away your joy.   John 16:20-22 (NIV)
2.  The source of Joy is Jesus; not human pursuits
Until now you have not asked for anything in my name. Ask and you will receive, and your joy will be complete.   John 16:24 (NIV)
3.  The Fruit of the Spirit is a product of the Spirit – not the flesh.  Joy is the result of Love and produces Peace
But the Fruit of the Spirit is love, joy, peace, patience, kindness, goodness, faithfulness,   Galatians 5:22 (NIV)
4.  We should find Joy in the midst of trials.  What human in their right mind would suggest that?
Consider it pure joy, my brothers, whenever you face trials of many kinds,   James 1:2 (NIV)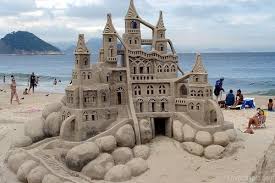 So here we are – the pursuit of happiness or the possession of Joy.  I believe there is a difference in the very nature of these two concepts.  If Joy is the goal, then we will not be satisfied with the happy little piles of mud but we will take the journey to the seashore with our Master and find that He has an entire horizon of Joy waiting for us.  It is not a promise of comfort and easy.  Remember what Jesus said?  His yoke was easy and His burden is light…but there is still a yoke and a burden!
May you find Joy in the midst of sorrow and Peace in the midst of pain because the day will come when we will only have the former and not the latter.
Open Mic: Share your thoughts
Have you experienced God's joy in the middle of a non-happy moment?
-Michael G