I always loved this game.  Sitting in a circle waiting to be 'goosed'; chasing the 'goose-ee'; picking the next 'goose'…good times! 
As adults, I think we still play this game but with a much different level of anticipation and enjoyment.  We either chase after something we can't catch or feel we are chased by something that threatens to overwhelm us.  In the end, we are left feeling suffocated, unfulfilled, or in constant turmoil.  Life was supposed to be good, fun and peaceful…Peaceful – what does that mean?  Full of peace?  A life without conflict?  Day after day of calm relaxation?
Proverbs tells us to "go to the ant" (6:6) to learn some lessons.  Well, we are going to the birds!Duck, Duck
You may know this person.  They are the ones who always seem to have it together.  They never get frustrated over things and always seem to be in control.  They sail along smoothly while the rest of us flop about like a fish in the bottom of the boat.  They are the ducks on the pond…calmly floating through life.  But they have a secret – under the calmness of the water, their little legs are churning away like small propellers.  They lay awake at night trying to solve the problems that come with sunrise.  The worry and concern, the effort to control, burns in their bellies.  They have no peace!  I know this because I am a duck!
But Jesus promised something else, "Peace I leave with you; my peace I give you. I do not give to you as the world gives. Do not let your hearts be troubled and do not be afraid." (John 14:27 [NIV]).  Even Paul told the Galatians about "love, joy and PEACE!"  Well, where is this peace and how do I get it?  Some would suggest that the opposite of Peace is War or Unrest.  Just because there is no war doesn't mean we have peace.  The opposite of Peace is Fear.  Look back at the verse – The first word is Peace and the last is fear (afraid) – the concepts are related.  So when Jesus says that 'perfect love casts out fear,' He is giving us the foundation to Peace…His Love!
Goose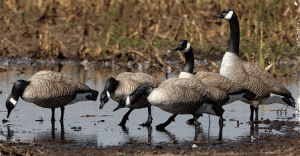 Ask any goose hunter and he will tell you that there is always a Sentry Goose in the flock.  This is the goose that stands with its head high and looks for danger while the rest of the flock feed or rest…while the rest of the flock is at Peace.  There is a reason Jesus became 'one of us'.  He understands us; He knows our fears and He desires to stand and be our defense so we can have rest (Matthew 11:28).  That does not mean the danger is erased or troubles go away.  It means we don't have to have fear in the midst of these experiences.  We can have Peace.
Brad was in his mid-forties, healthy, active, dynamic.  He was a devoted husband, a loving father of 3 and our pastor.  Without warning, he suffered a severe stroke and within a couple of days was gone, leaving a devastated church and a grieving widow.  The day before the funeral, his family held a viewing and allowed the church family to say a final goodbye.  For four agonizing hours, hundreds of people streamed silently passed his casket – standing next to it was his loving wife.  She smiled, hugged and encouraged every hurting soul that passed by.  Her strength was unbelievable.  Yes, I'm sure her heart was ripped apart, her mind numb and her soul full of questions.  But she was the perfect picture of peace and that peace engulfed every one of us.  I don't understand how she was able to do it; I cannot explain it but Paul tried.  "And the peace of God, which passes all understanding, shall keep your hearts and minds through Christ Jesus." (Phil. 4:7)
One more Bird
The story is told of a wealthy woman who wanted to commission a painting that would depict Peace.  She allowed artists to submit their works from which she would select a winner.  The first artist presented a beautiful landscaped canvas with mountains, wide fields and a subtle rainbow.  She rejected it.  The next artist showcased a woodland scene with deer grazing in the underbrush.  Streaks of warm sunlight dripping through the trees.  She rejected it.  The third artist painted a dark, jagged cliff.  The sky was electric from a wild storm and the wind and rain blew across the face of the cliff in a fury.  But tucked away in a cleft of the rock was a small bird sleeping on her nest.  The woman found her artist and the picture of Peace that passes all understanding – a peace that allows sleep in a storm.
Open Mic:  Share your thoughts
Do you struggle to find the Peace that passes understanding?
What promises from God help you to find this peace?
-Michael G