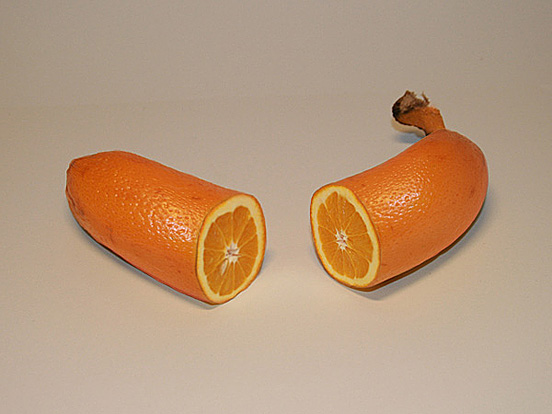 Bananas are an amazing fruit!  They come with their own handle and are naturally appealing.  They truly are one of my favorite fruits.  They are tasty when they are bright yellow and make great bread when they are black and disgusting.  But one of their best features is the fact that bananas produce great belches!  (Yes!  I really said 'Belch' – No!  My wife didn't proofread this post…quite possibly a serious strategic error!)
The thing about bananas is that you can choose just one from the bunch and save the rest for later.  The same is true for grapes and for years these are the images that would come to my mind whenever I heard or read about the Fruits of the Spirit (Galatians 5:22-23).  It was later pointed out to me that Paul actually talks about the Fruit of the Spirit – singular not plural. Now maybe this is a big deal and maybe its not, but it certainly changes how I think about the Fruit of the Spirit.
As a 'banana', I am able to choose which 'Fruit' I think I want to try…"I need to really work on the banana of Love or the banana of Meekness because I know I already have that banana of Self-control or Temperance down cold!  – Pardon me, while I eat my fourth doughnut with my cream-filled eclair"…Individual fruits of the Spirit allow me to pick and choose which ones I think are most important.  But I don't think this is the essence of what Paul was trying to convey.
If we imagine the Fruit of the Spirit as a single entity that must be 'consumed' as one, then maybe the image is that of an orange – a single fruit, made of many sections.  When I approach this fruit, I peel back its covering and am immediately faced with all nine sections.  Certainly, I can separate each section and have my fill of as much as I want, but I have not partaken of the entire fruit until I have eaten ALL of the sections.
I guess the point here is that the Fruit of the Spirit is not a menu option at 'Heaven's Restaurant'…"I'll have a plate of Love and a side of Peace but hold the Patience!  I am allergic to that; I always break out with a bad case of Tribulation!" (Romans 5:3)  It is God's intention that we be striving to grow in all of these sections at the same time.  This is not how I want to do it…I prefer to pick and choose – but I firmly believe that God has a more comprehensive plan for our spiritual growth.
Here is another way of looking at the Fruit of the Spirit:
Sections 1-3: Upward-Focused – Love, Joy, Peace

Sections 4-6: Outward-Focused – Long-suffering, Kindness, Goodness

Sections 7-9: Inward-Focused – Fa

ithfulness,

Gentleness

, Self-control
These sections are not independent areas of growth; they are interdependent spiritual qualities that require us to strive to grow in many ways at once.  Certainly not an easy task, but one that is possible – with the help of the Holy Spirit (after all, it is His fruit that we are to bear – John 15).
As the weeks pass, I will be adding posts for each specific section of fruit.  Check back to see what has been added – look for the links or just click on the Fruit of the Spirit Category for the whole list.  So what do you say?  Should we peel an orange and see what God has to teach us?
Now, orange you glad we had this little discussion!
Open Mic: Share your thoughts
Which section of the Fruit of the Spirit would you consider your strength?
Which section is a struggle for you?
-Michael G