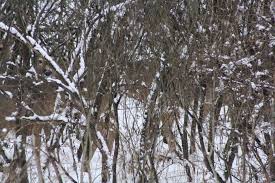 I really enjoy hunting! Deer, turkey, pheasant, small game…anything to get out into the woods – away from the things of man!!! I'm not very good at it; I just enjoy it.  The truth is, my wife would be a better hunter. She can go for a 3 mile run on a busy city street and see a half a dozen deer, a family of pheasant and stray chicken! I go sit in the woods for 15 hours and only see 2 squirrels fighting over a big nut (yes, I mean me!)
There is one experience that I remember very clearly. It was a frosty November morning in southern Wisconsin and I had settled into my deer blind at about 5:30am. Nothing is awake at that hour – including me!  My multiple layers of flannel and fleece kept me warm enough to dose off a few times as I waited for the "official" start time for the hunt.  At about 6:50AM, I happen to awake from one of my little naps and slowly looked around.  As I panned back and forth through the trees, I finally gazed straight forward and was shocked to see a deer staring back at me, not more than 10 yards away!  I KNOW I had looked in that direction several times and yet, I had missed seeing this deer every time until now.  All of the sudden, he was there.  He slowly turned and moseyed away into the gray light without me being able to even raise my gun.  How is it that I did not see what was right before my eyes – even though I was looking for it?
Elisha is an interesting prophet.  Although, to most people's memories, he seems to take a back seat to Elijah even though Elisha received a double portion of the power of the Holy Spirit that had filled Elijah. (II Kings 2:9) This increased presence/power of the Holy Spirit was seen in the following situation:  Elisha and his servant were staying in the town of Dothan and the King of Aram, who hated Elisha, found out about it and sent his armies to besiege the city.  These sieges would often go so long that people would result to cannibalism. (II Kings 6:24-29)  It was serious and Elisha's servant was scared.
And it was told to the King of Aram, saying, "Behold, Elijah is in Dothan." He sent horses and chariots and a great army there, and they came by night and surrounded the city. Now when the attendant of the man of God [Elisha] had risen early and gone out, behold, an army with horses and chariots was circling the city. And his servant said to him, "Alas, my master! What shall we do?" So he answered, "Do not fear, for those who are with us are more than those who are with them." Then Elisha prayed and said, "O LORD, I pray, open his eyes that he may see." And the LORD opened the servant's eyes and he saw; and behold, the mountain was full of horses and chariots of fire all around Elisha. (II Kings 6:11-17)
Do you know what this means?  At any given moment, we could be surrounded by heaven's armies and never know it!  They could be waiting in the wings to bring support and comfort or even to destroy the Enemy!  It is only the measure of our faith that seems to make us see or miss such power and protection.  But this is not the reason I am sharing this story.
I am amazed by a couple of things:
The Blindness of the Servant
The Calmness of the Prophet
When the Servant looked out of the city, he saw the Enemy!  His reaction was Fear and his solution was himself; "What shall WE do?"  This servant had been with Elisha to see many great miracles and works of God.  He knew that he was on the Good side of this battle and yet he defaulted to his own solution to a problem that was clearly larger than himself.  While, I believe that his "blindness" to God's answer can be used to teach us a thing or two about Faith, his blindness may also serve to show us something about God's timing to grow our Faith…more on that in moment.
I believe that strong faith brings confidence.  Not confidence in ourselves, but in our outlook on life.  "Do not fear, for those who are with us are more than those who are with them."  Holy Chariots, Batman!  That is a goose-bump moment!!!  If I were standing on that wall and saw fiery chariots and angels, I would probably have to change my Jockeys!  But Elisha was calm, confident and supportive – "Lord, open his eyes…and the Lord opened his eyes and he saw!"  God rewarded Elisha's faith with vision; He responded to his prayer with sight; He reduced his enemy to blindness.  Oh, ya, we haven't looked at that yet.  In the next verse (2 Kings 6:18), Elisha asks God to blind his enemies – and He does!  It was almost as if Elisha was asking God to take the blindness of his servant and cast it on to the armies of his enemy.  Now that is confidence in your God!
There is one other place we need to look before we leave this discussion of Spiritual Sight: The Road to Emmaus.  In Luke 24:13-32, the resurrected Jesus joins two men walking towards the town of Emmaus.  Verse 16 says that their eyes were "prevented from seeing Him"…strange!  Intentional blindness!  Later, when their eyes are "opened", they are amazed at how their hearts burned within them as the unrecognized Jesus spoke to them.  Could it be that God sometimes intentionally blinds us from seeing the whole picture (as with Elisha's servant and these 2 men) so that He can draw out of us some measure of growth and understanding that our own sight would have prevented?
This question begs another: when we cannot see clearly the road ahead; when we are unsettled and blind to the answer, is it your blindness due to the size of your faith or God imposing blindness to teach you something in your faith?  As you look into God's Word for the answer, be prepared to have it stare right back at you – just like my trophy buck!
OPEN MIC: SHARE YOUR THOUGHTS
Is there a time when God has brought support or defense to you that you did not expect?
Do you pray for God to protect or defend you?  More importantly, do you ask that others see how God has helped you?
-Michael G