For the introduction to the Lessons From My Father Series – Click Here
WALK ON THE ROADSIDE – Part 2
Two roads diverged in a yellow wood,
And sorry I could not travel both
And be one traveler, long I stood
And looked down one as far as I could
To where it bent in the undergrowth;

 Then took the other, as just as fair,

And having perhaps the better claim
Because it was grassy and wanted wear,
Though as for that the passing there
Had worn them really about the same,

 And both that morning equally lay

In leaves no step had trodden black.
Oh, I marked the first for another day!
Yet knowing how way leads on to way
I doubted if I should ever come back.

 I shall be telling this with a sigh

Somewhere ages and ages hence:
Two roads diverged in a wood, and I,
I took the one less traveled by,
And that has made all the difference.

Robert Frost
Hand under the Head
Walking on the roadside of my family has meant a lot of different things…physical safety, emotional and financial security and spiritual direction – to name a few.  In all of these areas, the lesson of my father was that of protection.  How do I prevent harm and provide help?  How do I show consistent strength and share unconditional love?
It was not supposed to be like this.  I am older…stronger…more experienced, but I was having trouble breathing and I had no strength to fight back.  He was only sixteen years old and yet my son had me pinned in a chest-crushing wrestling hold and I could not break free.  It was "tap out" or pass out and this was a moment he would remember forever – the day he finally beat his old man in wrestling!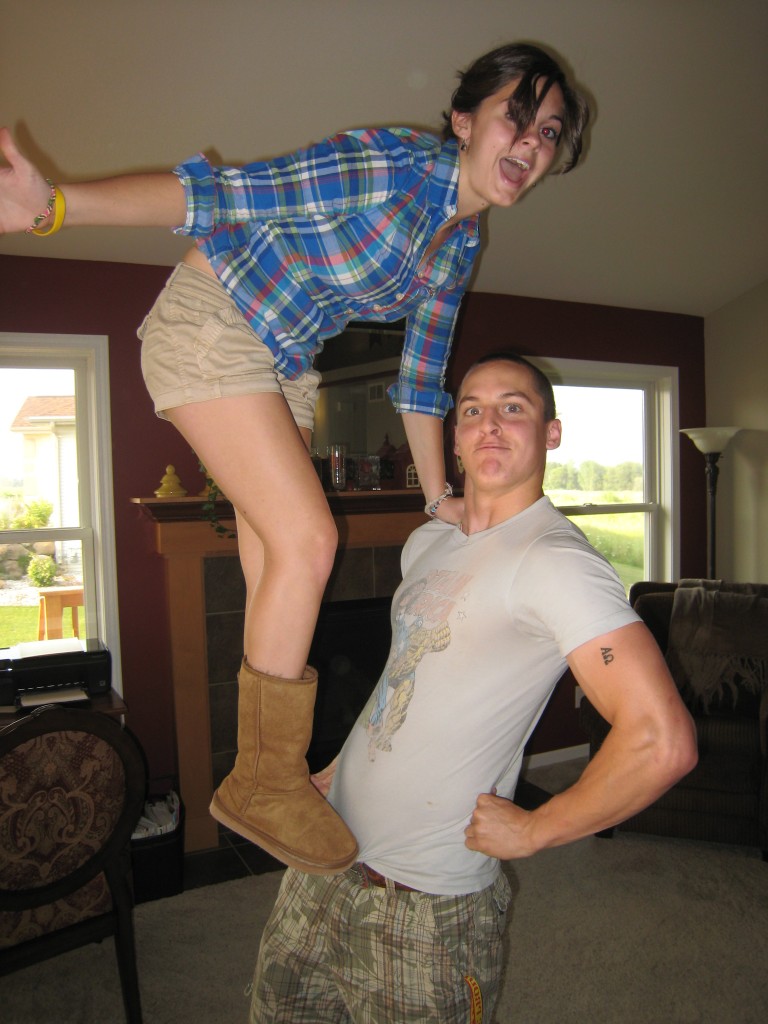 I loved to wrestle with the kids.  It was our way of hugging without all of the "gushy stuff".  The kids wrestled together as well but it had nothing to do with hugging and since Michael is four years older than Megan, those wrestling matches were never balanced.  It never failed – whenever they wrestled, all was fun and games until Megan's head hit the floor and then the arguing started.  One day, Megan asked me, "Daddy, how come I never get hurt when you and I wrestle?"
"Whenever we wrestle and tumble to the floor, I always put my hand behind your head to keep you from hitting the floor."
Protection comes in many forms when you are a parent.  Sometimes it comes in the form of rules and restrictions: Controlling access to the internet; having all of the kids' friends come to your house for the party; limiting the Halloween candy; setting dating standards.  But sometimes we get the chance to show them that we love them at the same time we are protecting them.
Father on the Roadside
Being stoned to death certainly falls into the "cruel and unusual punishment" category of our modern times.  But the brutality and humiliation of stoning is intended to deter anyone from breaking the very laws that would bring about such punishment.  But the scribes and Pharisees of Jesus' day cared little about deterrence or punishment.  They were after entrapment.  When they brought the woman caught in adultery to Jesus and asked if she should be stoned – as the Law of Moses prescribed, they were ready to pounce on any response that He would give.  However, they never expected a response of silence.
3 Then the scribes and Pharisees brought to Him a woman caught in adultery. And when they had set her in the midst, 4 they said to Him, "Teacher, this woman was caught in adultery, in the very act. 5 Now Moses, in the law, commanded us that such should be stoned. But what do You say?" 6 … But Jesus stooped down and wrote on the ground with His finger, as though He did not hear… "He who is without sin among you, let him throw a stone at her first." 8 And again He stooped down and wrote on the ground. 9 Then those who heard it, being convicted by their conscience, went out one by one, beginning with the oldest even to the last. And Jesus was left alone, and the woman standing in the midst. 10 … He said to her, "Woman, where are those accusers of yours? Has no one condemned you?"

11 She said, "No one, Lord." And Jesus said to her, "Neither do I condemn you; go and sin no more."   –  John 8:1-11(New King James)
"Go and sin no more."  Jesus admits her guilt!  This is not a case of false accusation.  He, in His omniscience, places the full weight of her actions at her feet…and then dismisses it; or rather, forgives it!   "Neither do I condemn you."  How can He do this?  She offered no defense; no plea for mercy; no excuse or justification.  She just stood there – before the Creator of the universe with nothing but guilt. And yet, without speaking a word of reproach or rebuke, Jesus offers forgiveness and hope.  After writing on the ground the first time, Jesus stands to face the group and challenges them, "Whoever is without sin, cast the first stone."  We do not know what Jesus wrote on the ground.  Perhaps the first writing was the names of these scribes and Pharisees.  Whatever it was, it was enough to get their attention and to prepare them for the second writing.  When He stooped to write again, perhaps He listed some sin beside each name – maybe the very sin of which they accused the woman.  It really does not matter what He wrote.  Jesus had accomplished His purpose.  He stood between the accuser and the accused, extending a hand of restraint to the one and an arm of forgiveness and love to the other.  He stood on the side of the road and provided hope to the hopeless.
Is it so hard to imagine that Jesus does the same for you and me? It's not that we are helpless, lost or innocent. Most of the time, we are devious, conniving and guilty.  But He stands before a world that is eager to see us judged and condemned and there is a purpose in that position.  He is not standing there between us and condemnation because He wants us to feel good in our weak and fallen state; He offers this layer of protection because He expects something in return.  Remember His words to the woman?  "Go, and sin no more."  Jesus defends and then raises the bar.  Don't go and be who you were.  Don't walk the same road as before.  Become a new creation and live an abundant life.  "For I know the thoughts that I think toward you, says the LORD, thoughts of peace and not of evil, to give you a future and a hope." (Jeremiah 29:11 NKJV)
We all come at life from different perspectives, different experiences, different challenges.  But we all have the same heavenly Father that is standing on the roadside offering us His protection, His love and His direction.  How we choose to respond will – in the words of Robert Frost – 'made all the difference'.
OPEN MIC: SHARE YOUR THOUGHTS
When has Jesus offered you forgiveness and restoration when you deserved punishment and pain?
Do you have the opportunity to stand on the roadside for a friend and offer this kind of love and forgiveness to them?
-Michael G