Music Lessons
To me, he is still my little boy – my Buddy!!  He is a fiery little toe-head running around the backyard jousting with army men and soldiers (he always called them "Guys"); he is building sand castles that fight none-stop battles; he is reigning down vengeance upon an evil ant colony with a ball-peen hammer.  The fact that now he is a husband and father successfully pursuing his dreams doesn't change the fact that he is MY Little Boy!!
Daddy's Little Girl?  Always!!  She is not a day over Three!  She has her own language that only angels and toddlers can understand; she can turn a handful of color-pencils into a full playground of imagination; she adores her brother and hangs on every word…waiting for another chance to laugh so hard she snorts!  A senior in High School?  Impossible  A responsible young adult that is ready to fly the coop?  Not my Little Girl!!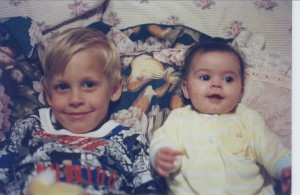 As a father, this is how I see my children.  Their successes and failures only give me the chance to see more of who they will become.  I willingly run to their side for a scrapped knee or shattered attempt to pursue their dreams…I long to give them strength when they are faced with weakness and disappointment.  Every joy and pain is felt with a jolt of reality that defies explanation and can only be understood by another parent.
If you are a parent, you understand and feel the same with your children.  Why, then do we think our Heavenly Father would not be there for us when we fall short in our feeble attempts to please Him or when life wraps its talons around our hearts and tries to snuff the very life breath from our lungs.  The truth is, in our weakness, He rushes to our side and His strength is made complete.  In our failures, God's grace is sufficient…it is enough…nothing more should be said…it is ENOUGH!! (Philippians 4:13)
Listen and sense God's strength wrapping around you and filling you with the knowledge that our weakness may discourage us; it may frustrate us but our weakness is the opportunity He seeks to make His strength perfect within us.
I can do all things
Through Christ who gives me strength,
But sometimes I wonder what He can do through me;
No great success to show, No glory on my own,
Yet in my weakness He is there to let me know . . .

CHORUS
His strength is perfect when our strength is gone;
He'll carry us when we can't carry on.
Raised in His power, the weak become strong;
His strength is perfect, His strength is perfect.

We can only know
The power that He holds
When we truly see how deep our weakness goes;
His strength in us begins
Where ours comes to an end.
He hears our humble cry and proves again . . .

(chorus)
And He has said to me, "My grace is sufficient for you, for power is perfected in weakness." Most gladly, therefore, I will rather boast about my weaknesses, so that the power of Christ may dwell in me. Therefore I am well content with weaknesses, with insults, with distresses, with persecutions, with difficulties, for Christ's sake; for when I am weak, then I am strong. 2 Corinthians 12:9,10
OPEN MIC:  SHARE YOUR THOUGHTS
How has your weakness allowed you to rely on God for strength?
Is there a time when all of your plans fell short of your goal and you had nothing left but to find comfort and strength in God's Word or His presence?
If so, share your thoughts for other to read.
-Michael G