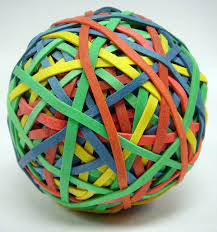 A rubber band is worthless until it is stretched.  As it turns out, so are we!
If life was always sunshine and roses, we'd already be in heaven – or Hawaii!  But the truth is, we all face the challenges of disappointment, regret and frustration.  It is because of these experiences that we develop an ability to be used by our Creator.  We've all heard the Potter and the clay analogy – and it is good!  But the truth is, I get tired of always being the clay!  I want simple problems and easy decisions.  And if I get want I want, I will also get put on the Potter's shelf – ouch!
I really don't have any new steps for making the tough decision.  I haven't come across a silver bullet that always solves the big dilemma.  I wish it was that simple.  But when I look at the examples from Scripture of those who were faced with the tough decision, I see a pattern developing.  Join me in Hebrews 11:
Verse 4 – By Faith, Abel choose the better sacrifice.  It ultimately cost him his life – but God was pleased.
Verse 7 – By Faith, Noah prepared an ark to bring salvation to his family.  It cost him his reputation – but God was pleased.
Verse 8 – By faith, Abraham left his home and went to an unknown land.  It cost him the comfort of his ancestral home – but God was pleased.
Verse 17 – By Faith Abraham choose to obey God and offer Isaac as a sacrifice.  It would have cost him his son – but God was pleased.
Verse 24 – By Faith, Moses choose to give up a life in Egypt to be with his people.  It cost him the throne – but God was pleased.
Verse 30 – By Faith, Joshua choose to march around a city rather than attack it straight on.  It cost him the ridicule of his enemies – but God was pleased.
Rahab, Samson, David…the list continues and God was pleased with their decisions.
I don't pretend to understand a lot of what God chooses to do in my life; actually, I am fairly clueless much of the time.  But it seems very clear to me that when I am stretched to my capacity and feel as though I would snap, that is when God starts to use me the most.  So it seems that the real key to dealing with the tough decisions of life is found in one thing – How's your faith?
And without faith, it is impossible to please Him, for he who comes to God must believe that He is and that He is a rewarder of those who seek Him.  Hebrews 11:6
Open Mic:  Share your thoughts
How has God grown your faith through tough decisions?
This week's discussion is Making Tough Choices. Bonnie Gray is hosting a blog-and-comment discussion on "keeping faith fresh." When you have finished reading here, hop over to Faith Barista and join in on the jam session!
-Michael G