Finally, that's settled!
This week's discussion is How Does Your Faith Affect Your Personality? Bonnie Gray is hosting a blog-and-comment discussion on "keeping faith fresh." When you have finished reading here, hop over to Faith Barista and join in on the jam session!
Ignoring the dictionary, which came first?  Chicken or Egg?  For one who takes Genesis literally, this one is easy – Chicken.  With this in mind, I thought the question may be read backwards for this Jam Session.  It might have read "How does your personality affect your faith?" After all, outgoing personalities will likely express faith in a very 'noticeable' fashion, while those who tend towards introversion will be content with a more private expression of their faith.  We are born with personality and faith comes later.  So which comes first?  The chicken (personality) or the egg (faith)?
In this case, Bonnie has it right – Faith must come first! (As it turns out, the dictionary would agree!)
While it is true that we all have a personality, we all don't have faith.  God gives us a measure of faith based on our need and request and if I am not asking for my faith to grow, chances are, God will not give me much more than I already have.  So when it comes to our faith having an impact on our personality, we will probably only see an impact if our faith is actually growing.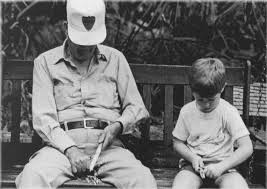 As a kid – and even as an adult – I enjoyed whittling on a stick or piece of wood.  I was never any good and everything ended up being a spoon or a knife or something indescribable…but I enjoyed it!  But I always wished that I had a set of really cool whittling knives. Some knives can cut away large chunks of unwanted wood and others are designed to carefully score or impress the wood with living detail.  In some respects, I am a lot like the rough piece of wood.  My personality is full of splinters and knots; my demeanor and mannerism is often out-of-sorts with my family and friends.  I can be hard to handle.
I think Jesus saw the same thing in many of the disciples.  He spent the entire day healing and performing miracles and as the evening came, He and the disciples go out to in the boat and a storm overtakes them.  The disciples cry out in fear "He replied, 'You of little faith, why are you so afraid?' Then he got up and rebuked the winds and the waves, and it was completely calm." (Matthew 8:26)
Peter was one of the sailors that night and when we look at him, he is impetuous, brash and quick to speak without thinking.  He had little faith…any his personality showed it.  But God had a plan for Peter.  He whittled away at his rough edges; He sanded smooth the bent of selfish ambition and carved His Own image into his heart.  God grew his faith, tested his faith, strengthened his faith and it changed his personality.  How do I know?  Peter wrote this many years later:
His divine power has given us everything we need for life…For this very reason, make every effort to add to your faith goodness; and to goodness, knowledge; and to knowledge, self-control; and to self-control, perseverance; and to perseverance, godliness; and to godliness, brotherly kindness; and to brotherly kindness, love. For if you possess these qualities in increasing measure, they will keep you from being ineffective and unproductive in your knowledge of our Lord Jesus Christ.  2 Peter 1:3-8
Faith is at the beginning of the list.  It is the foundation upon which everything else must be built…even our personality!  God desires to carve away the imperfections of our temperaments and replace them with His goodness, knowledge, etc…
Without Faith
Our Pride never bends to Humility
Our Selfishness never surrenders to Love
Our Anger never softens to Kindness
Our Bitterness never sweetens to Charity
Our Hate never cools to Compassion
Our Weakness never grows to His Strength
Our Fear never blossoms to His Trust
Our Doubt never vanishes to His Assurance
Our Defeat never gains His Victory
The Potter seeks to fashion His vessel and the Whittler wants to carve His masterpiece and all because the chicken really does come before the egg!
Open Mic: Share your thoughts
What areas of your personality do you struggle to surrender to God?
What parts of your personality have you seen grow in faith?
-Michael G